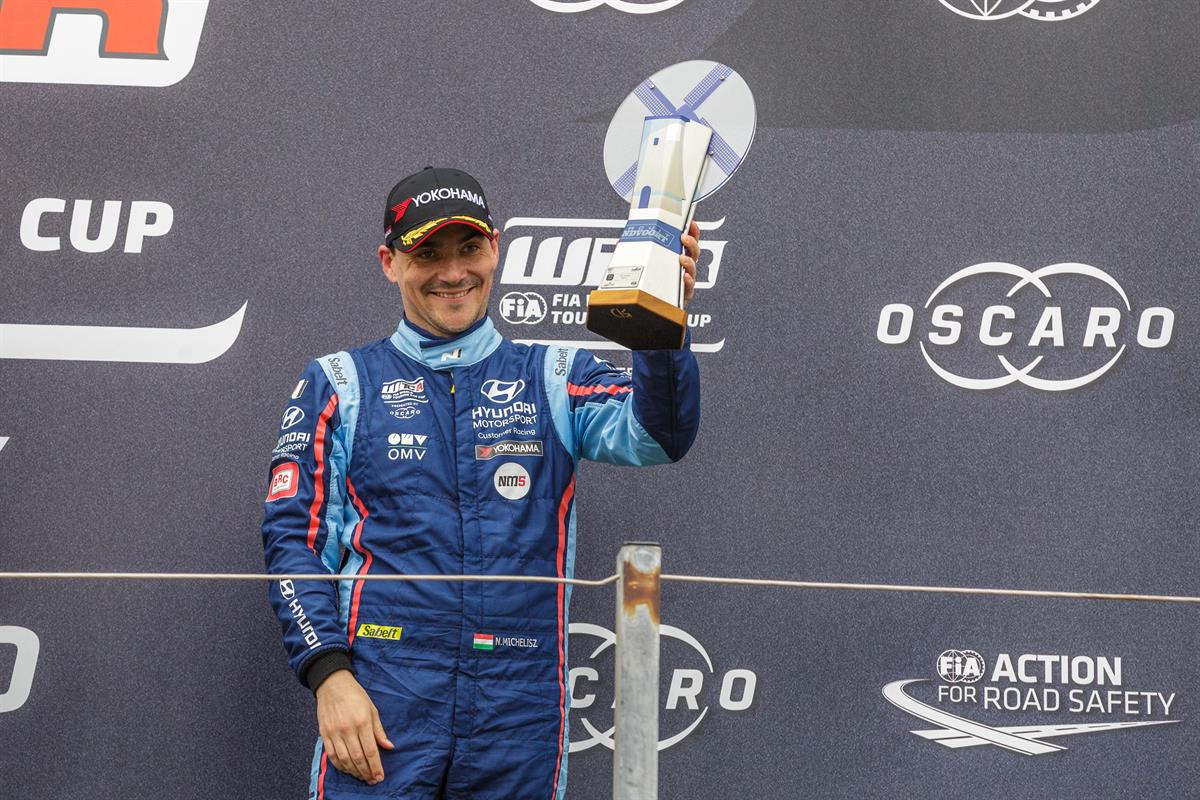 BRC Racing Team enjoys strong Sunday at Race of Netherlands
BRC Racing Team is celebrating a strong performance at Race of Netherlands, the fourth round of the 2019 WTCR – FIA World Touring Car Cup season, which culminated in a podium finish in the third race of the weekend.
All four of the team's Hyundai i30 N TCR cars finished in points scoring positions in Race 3, with BRC Hyundai N Squadra Corse driver Norbert Michelisz bringing home a podium. The team also enjoyed great pace in Race 2 earlier in the day, which saw three of its drivers finish in the top ten.
After a slow puncture forced his retirement from Race 1, Michelisz enjoyed a change of fortunes on Sunday with a seventh and third place finish. He was just ahead of BRC Hyundai N LUKOIL Racing Team driver Augusto Farfus, who had been running in a provisional podium finish for much of Race 3.
Gabriele Tarquini made a spirited drive to fight his way through the field from 14th on the grid to ninth in Race 3. The team now lies in third in the teams' championship with Michelisz and Tarquini fourth and seventh in the drivers' standings.
Norbert Michelisz said: "A solid weekend for us. I was unlucky yesterday with the slow puncture preventing me from scoring points. Really happy with the results today, I enjoyed being on the podium. All in it was all good to score important points for the championship, big thanks to the team."
Gabriele Tarquini said: "Not my best weekend of the season. My qualifying was not very good and it cost me positions on the grid. Overtaking is always very difficult here but I had some very good races and scored some good points in the end."
Dutch BRC Hyundai N LUKOIL Racing Team driver Nicky Catsburg gave the local fans a reason to cheer at Zandvoort Circuit, qualifying in the top ten on Sunday and taking a good haul of points from all three races.
His teammate Augusto Farfus endured a difficult start to the weekend. He was forced to take avoiding action in qualifying and ended up in the barriers, compromising his Race 1 performance. He turned things in his favour on Sunday with an impressive performance. The Brazilian joined Michelisz in the top five shootout in Q3, and used his advantageous starting positions to secure a sixth and fourth place finish.
Their combined result means the team is now fifth in the standings with Catsburg in tenth and Farfus in 12th in the drivers' championship respectively.
Nicky Catsburg said: "Race of Netherlands was not too bad for us and we take home some good points. Race 1 was difficult but in Race 2 we managed to get into the top ten in qualifying and I started and finished fourth. In Race 3 I ran into some difficulties early on and didn't want to impede Gabriele. The car was quite good and showed promising pace."
Augusto Farfus said: "Great weekend! It was unfortunate yesterday we got pushed out of qualifying by a competitor which ruined the race. Today we showed signs of great pace. I'm really pleased, I know it's a matter of time to get up to speed and master the championship, but we are getting there."
Team Principal of BRC Racing Team Gabriele Rizzo said: "Today was a really strong day for us. We started with three cars in the top ten in Race 2 and bettered it with all four Hyundai i30 N TCR cars finishing in the points in Race 3. In a weekend where one of our competitors has dominated every session, we can be proud that we were able to finish just behind them. In particular I'd like to congratulate Augusto on a strong performance this weekend. It was a shame he had his first qualifying destroyed from a fault of another competitor, but we are all convinced he will take home some silverware in the near future."