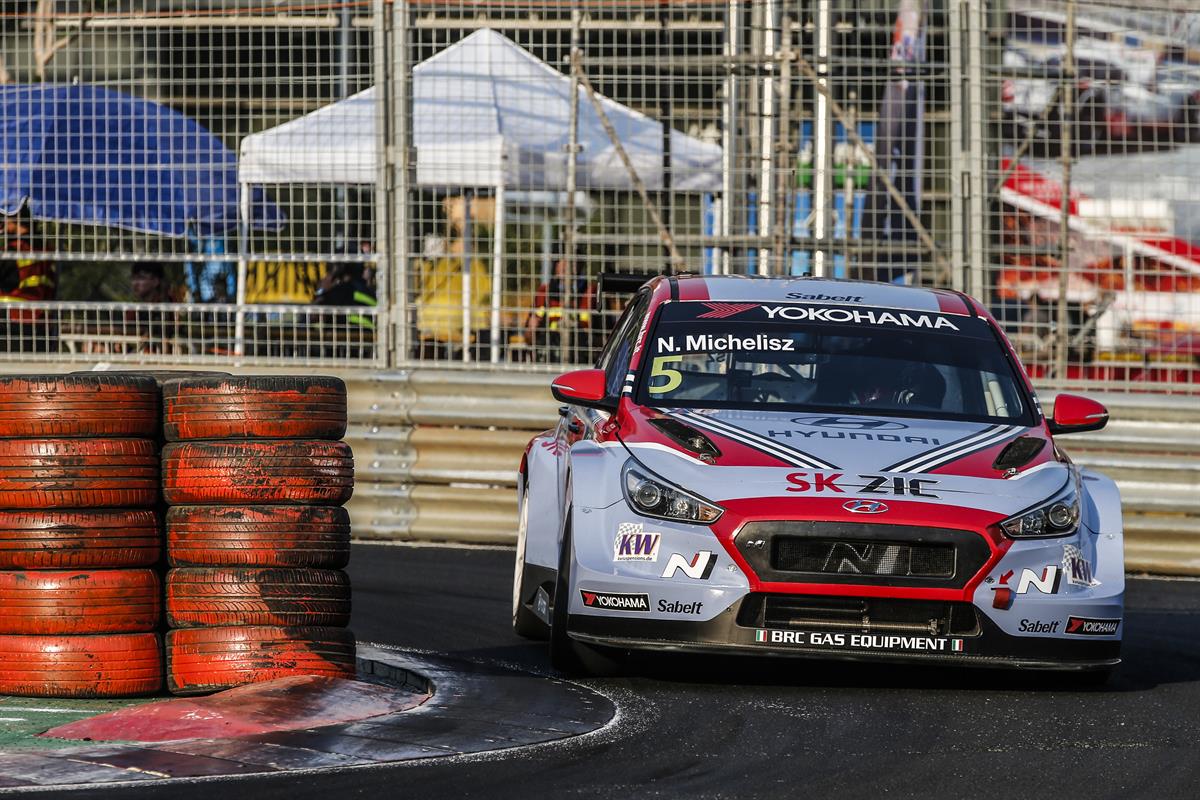 Tarquini holds on to WTCR lead after the Chinese challenges
BRC Racing Team remain in second place after back-to-back weekends
BRC Racing Team concluded the Chinese races of the FIA ??World Touring Car Cup (WTCR) maintaining the lead of the general drivers' rankings. Gabriele Tarquini continues to hold the top spot, while Norbert Michelisz now sits in seventh after the back-to-back race weekends in the country. BRC Racing Team remains in second place in the teams' rankings with only the races in Japan and Macau remaining.
The good standing in the points comes despite a challenging weekend, following dramatic changes to series' compensation weights that left the Hyundai i30 N TCR up to 100kg heavier than other cars on the grid.
The difficulties for Gabriele Tarquini started during Saturday's qualifying session, where the Italian could only claim the 21st position. A difficult comeback saw him cross the finish line for Race 1 in 17th. After starting from the back due to an engine change penalty, the team elected to withdraw Norbert Michelisz from the race to avoid unwanted damage early in the weekend.
Race 2 saw a change in fortune for the two drivers. Michelisz was able to mount a good recovery drive from 21st on the grid to finish in 14th. Tarquini, meanwhile, started from 16th but was forced to retire from the race with damage, after a competitor hit his i30 N TCR. The car was promptly repaired by the BRC Racing Team, ready to take part in the final challenge.
An action-packed Race 3 was happily trouble-free for both drivers as they managed to climb up the order. At the chequered flag Tarquini was in 13th place, followed by Michelisz in 14th.
Gabriele Tarquini said: "The positive thing is that I'm still leading the championship standings. However, the races in Wuhan did not go as planned, with no points in the three races. The current compensation weight from the three previous races, does not allow us to show the true performance of the Hyundai i30 N TCR in qualifying, and also during the race we could not match the pace at the front of the field. We hope to get back to scoring points in the next Suzuka race".
Norbert Michelisz explained: "Indeed, China and especially the weekend in Wuhan was tough in terms of results, but we are still in a good position. The main goal is to learn from these races, and to find out what we can do better if we are again in a position to carry a lot of extra weight compared to the others. The focus for me is to look ahead to the following race in Suzuka".
Race 1 WTCR 2018 China – Wuhan Street Circuit – 18 laps
1 – Jean-Karl Vernay - Audi Sport Leopard Lukoil Team – 29:29.430
2 – Pepe Oriola – Campos Racing + 4.913
3 – Gordon Shedden - Audi Sport Leopard Lukoil Team + 5.513
4 – Frédéric Vervisch – Audi Sport team Comtoyou + 10.070
5 – Aurélien Comte –DG Sport Competition + 11.102
6 – Kevin Ceccon – Mulsanne Srl +11.531
7 – Esteban Guerrieri - ALL-INKL.COM Münnich Motorsport + 17.044
8 – Nathanael Berthon - Comtoyou Racing + 17.556
9 – Aurélien Panis - Comtoyou Racing + 18.307
10 – Denis Dupont – Audi Sport team Comtoyou + 19.060
17 – Gabriele Tarquini - BRC Racing Team + 27.428
NC – Norbert Michelisz - BRC Racing Team
Race 2 WTCR 2018 China – Wuhan Street Circuit – 18 laps
1 – Mehdi Bennani – Sébastian Loeb Racing - 25:35.996
2 – Aurélien Comte –DG Sport Competition + 0.478
3 – Nathanael Berthon - Comtoyou Racing + 0.618
4 – Pepe Oriola – Campos Racing + 5.115
5 – Jean-Karl Vernay - Audi Sport Leopard Lukoil Team + 5.516
6 – Frédéric Vervisch – Audi Sport team Comtoyou + 5.988
7 – Aurélien Panis - Comtoyou Racing + 6.489
8 – Denis Dupont – Audi Sport team Comtoyou + 11.585
9 – Yvan Muller - MRacing – YMR 12.176
10 – Rob Huff – Sébastian Loeb Racing + 12.482
14 – Norbert Michelisz - BRC Racing Team + 16.025
NC – Gabriele Tarquini - BRC Racing Team
Race 3 WTCR 2018 China – Wuhan Street Circuit – 21 laps
1 – Gordon Shedden - Audi Sport Leopard Lukoil Team – 40:35.882
2 – Frédéric Vervisch – Audi Sport team Comtoyou + 0.558
3 – Denis Dupont – Audi Sport team Comtoyou + 5.018
4 – Esteban Guerrieri - ALL-INKL.COM Münnich Motorsport + 8.475
5 – Nathanael Berthon - Comtoyou Racing + 8.813
6 – Pepe Oriola – Campos Racing + 9.827
7 – Ma Qinghua - Boutsen Ginion Racing + 11.047
8 – Kevin Ceccon – Mulsanne Srl +11.296
9 – Mehdi Bennani – Sébastian Loeb Racing + 12.304
10 – Thed Björk - MRacing - YMR + 13.905
13 – Gabriele Tarquini - BRC Racing Team + 15.928
14 – Norbert Michelisz - BRC Racing Team +21.125
OVERALL RANKINGS - DRIVERS
1 – #30 Gabriele Tarquini ITA - BRC Racing Team - HYUNDAI - pt. 241
2 – #11 Thed Björk SWE - MRacing - HYUNDAI - pt. 234
3 – #48 Yvan Muller FRA - MRacing - HYUNDAI - pt. 234
4 – #74 Pepe Oriola ESP – Campos Racing - CUPRA - pt. 207
5 – #69 Jean-Karl Vernay FRA - Audi Sport Leopard Lukoil Team - AUDI - pt. 205
6 – #86 Esteban Guerrieri ARG - ALL-INKL.COM Münnich Motorsport - HONDA - pt.199
7 – #5 Norbert Michelisz HUN - BRC Racing Team - HYUNDAI - pt. 195
8 – #22 Frédéric Vervisch BEL – Audi Sport Team Comtoyou - AUDI - pt. 192
9 – #68 Yann Ehrlacher FRA - ALL-INKL.COM Münnich Motorsport - HONDA - pt. 178
10 – #12 Rob Huff GBR - Sébastien Loeb Racing - VOLKSWAGEN - pt. 162
OVERALL RANKINGS - TEAMS
1 – MRacing - HYUNDAI - pt. 480
2 – BRC Racing Team - HYUNDAI - pt. 443
3 – ALL-INKL.COM Münnich Motorsport - HONDA - pt. 383
4 – Audi Sport Leopard Lukoil Team - AUDI - pt. 341
5 – Sébastien Loeb Racing - VOLKSWAGEN - pt. 297
6 – Audi Sport Team Comtoyou - AUDI - pt. 264
7 – Campos Racing - CUPRA - pt. 233
8 – DG Sport Competition - PEUGEOT - pt.178
9 – ComtoyouRacing - AUDI - pt. 105
10 – Boutsen Ginion Racing - HONDA - pt. 86
11 – Mulsanne Srl – ALFA ROMEO - pt. 49
12 – Zengo Motorsport - CUPRA - pt. 29