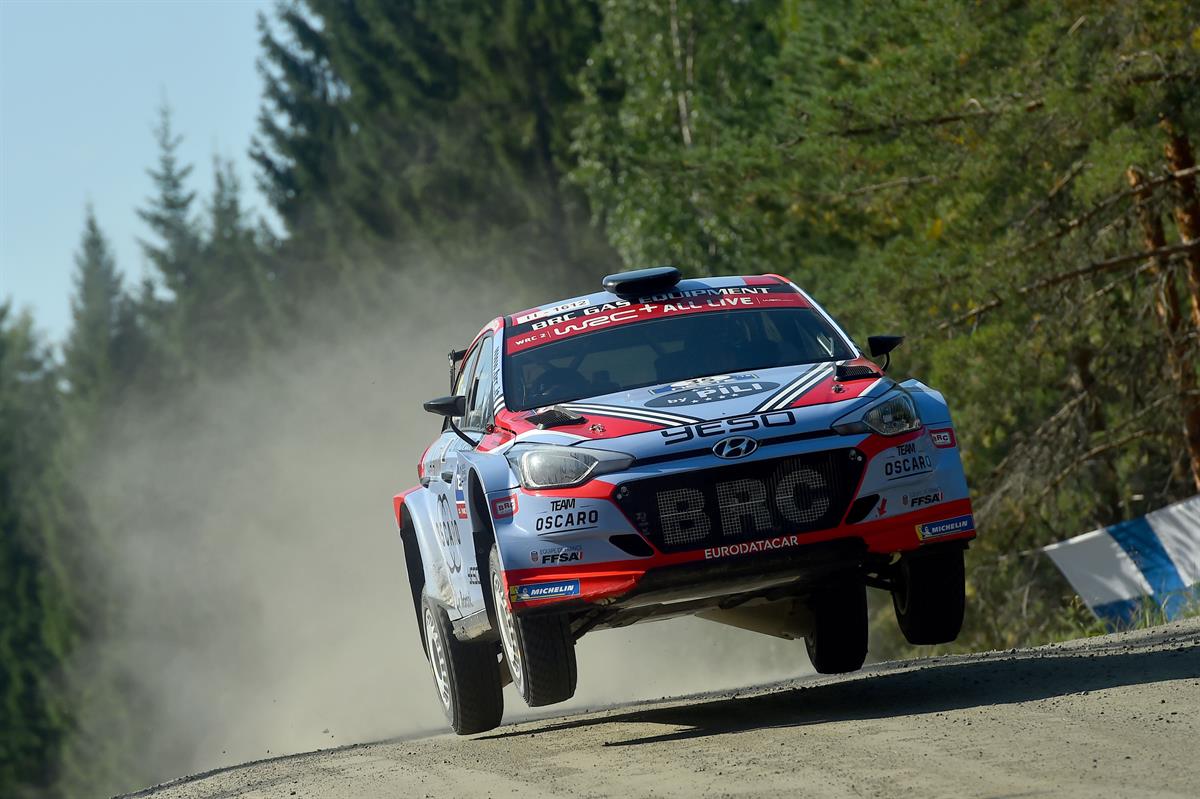 Loubet ready to start at Rallye Deutschland
18 Special Stages and more than 325 timed kilometers of races. These are the main ingredients of the ADAC Rallye Deutschland (Rally of Germany), valid as the ninth stage of the FIA ??World Rally Championship (WRC), which will take place from August 16th to 19th in the Saarland region.
Pierre Louis Loubet and Vincent Landais, from the Oscaro Team, will take part at the event on board of the usual Hyundai I20 R5 with Michelin tires, managed by BRC Racing Team.
This is the comment of the young French driver, just a few days before the start: "I'm impatient and I can't wait to start this new challenge, I hope to keep in the top positions and fight for the podium. I know this race, I have already participated twice and I always finished in fifth place. Last year I made a good performance, but a puncture affected our final result. The German Rally is a particular race with lots of changes of pace and different grips. I must be very careful and don't attack too much, as the error can come very quickly ".
After the shakedown and the Special Stage on Thursday evening, on Friday the race will face the narrow streets dotted with hairpin bends placed among the German vineyards.
The dreaded military roads will be Saturday's highlight, in which the competitors will cover 150 kilometers of timed sections.
Sunday the "grand finale", with the last three Stages, including Bosemberg's Power Stage, placed near the final stage of St. Wendel.
ADAC Rallye Deutschland 2018 - Schedule
Thursday, August 16th
Shakedown St. Wendeler Land 5,52 km 08:00
SS 1 - Harju 1 2,04 km 19:08
Friday, August 17th
SS 2 - Stein und Wein 1 19,44 km 10:11
SS 3 - Mittelmosel 1 22,00 km 11:05
SS 4 - Wadern-Weiskichen 1 9,27 km 12:53
SS 5 - Stein und Wein 2 19,44 km 15:39
SS 6 – Mittelmosel 2 22,00 km 16:33
SS 7 - Wadern-Weiskichen 2 9,27 km 18:21
Saturday, August 18th
SS 8 - Arena Panzerplatte 1 9,43 km 08:48
SS 9 - Panzerplatte 1 38,57 km 09:15
SS 10 - Freisen 1 14,78 km 11:03
SS 11 - Römerstraße 1 12,28 km 12:03
SS 12 - Arena Panzerplatte 2 9,43 km 15:08
SS 13 - Panzerplatte 2 38,57 km 15:35
SS 14 - Freisen 2 14,78 km 17:23
SS 15 - Römerstraße 2 12,28 km 18:26
Sunday, August 19th
SS 16 - Grafschaft 1 29,07 km 07:49
SS 17 - Grafschaft 2 29,07 km 09:42
SS 18 - Bosenberg (Power Stage) 14,97 km 12:18