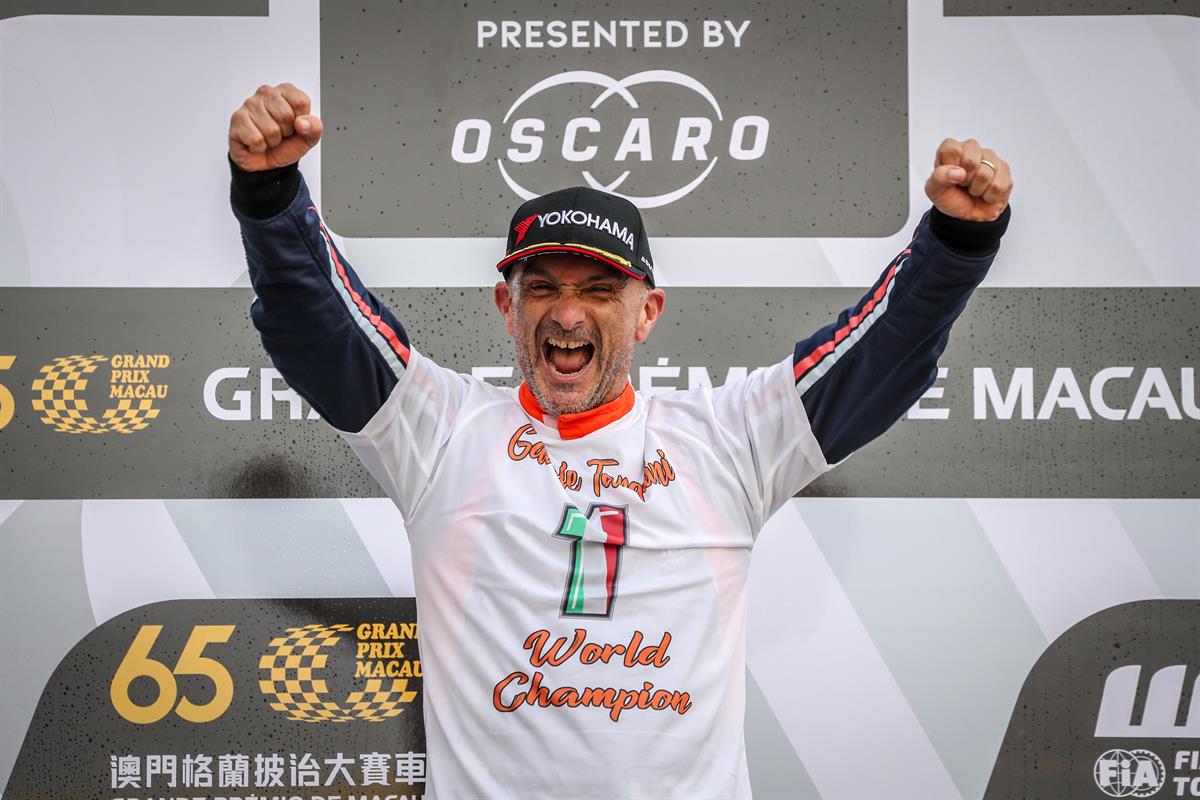 Gabriele Tarquini is FIA WTCR winner in 2018
BRC Racing Team driver captures title
After a season at the front of the FIA World Touring Car Cup (WTCR) field, Gabriele Tarquini won the drivers' title 2018 and became the first to write his name in the history books of the category.
This success comes after a masterly year, which started with a victory in the opening race in Morocco. Four more wins followed in the season, keeping the Italian always amongst the leading drivers.
The well-deserved title comes on the famous Guia Circuit of the Race of Macau, at the end of an adrenaline-filled weekend, where the BRC Racing Team driver had to work hard, due to an incident in qualifying, which kept him from reaching the top positions for Races 2 and 3.
After a good fourth place in the first race of the weekend, Gabriele Tarquini was forced to retire in the second challenge. In the third, and decisive, race, the experience of the Italian driver made the difference, allowing him to control his pace and to score the necessary points for the victory.
The excellent job of team-mate Norbert Michelisz, with the third place in the final race of the season not only took precious points from Tarquini's title rivals, but also scored another podium for the team as they clinched second in the teams' standings, frustratingly only a handful of points away from taking both crowns.
This is the comment from the newly crowned Gabriele Tarquini: "It's obviously a great feeling to be able to call myself the FIA WTCR winner. The races in Macau are always unpredictable, and this weekend was no exception, but happily it has ended on top for me. It has been a tough season in a very competitive championship, but today is a reward for all the hard work by everyone involved in the team. This is their championship as much as mine, especially after their effort to get the car ready for Race 3 today."
Norbert Michelisz declares: "First, I am very happy for Gabriele. He has been great all season, and this was a great weekend for the team as well. I am very pleased to have finished the FIA WTCR season on the podium in Race 3. It's the perfect way to end the season, and gives me a lot of motivation as we start the winter break and I look towards my plans for racing in 2019."
Race 1 WTCR 2018 Race of Macau – Circuito da Guia – 10 laps
1 – Jean-Karl Vernay - Audi Sport Leopard Lukoil Team 46:07.189
2 – Yvan Muller - MRacing – YMR +0.516
3 – Rob Huff – Sébastian Loeb Racing +0.881
4 – Gabriele Tarquini - BRC Racing Team + 6.523
5 – Norbert Michelisz - BRC Racing Team + 8.488
6 – Esteban Guerrieri - ALL-INKL.COM Münnich Motorsport + 9.297
7 – Pepe Oriola – Campos Racing + 9.923
8 – Timo Scheider - ALL-INKL.COM Münnich Motorsport + 10.594
9 – Luigi Ferrara – Mulsanne Srl + 11.725
10 – Mato Homola –DG Sport Competition + 12.373
Race 2 WTCR 2018 Race of Macau – Circuito da Guia – 8 laps
1 – Frédéric Vervisch – Audi Sport team Comtoyou 20:30.967
2 – Timo Scheider - ALL-INKL.COM Münnich Motorsport + 1.713
3 – Yvan Muller - MRacing – YMR +2.131
4 – Kevin Ceccon – Mulsanne Srl + 5.628
5 – Esteban Guerrieri - ALL-INKL.COM Münnich Motorsport + 6.422
6 – Yvan Ehrlacher - ALL-INKL.COM Münnich Motorsport + 7.944
7 – Mehdi Bennani – Sébastian Loeb Racing + 8.484
8 – Nathanael Berthon - Comtoyou Racing + 19.927
9 – Luigi Ferrara – Mulsanne Srl + 20.396
10 – Aurélien Panis - Comtoyou Racing + 37.106
NC – Norbert Michelisz - BRC Racing Team
NC – Gabriele Tarquini - BRC Racing Team
Race 3 WTCR 2018 Race of Macau – Circuito da Guia – 13 laps
1 – Esteban Guerrieri - ALL-INKL.COM Münnich Motorsport 37:53.401
2 – Rob Huff – Sébastian Loeb Racing + 2.368
3 – Norbert Michelisz - BRC Racing Team +3.354
4 – Yvan Muller - MRacing – YMR +4.488
5 – Yvan Ehrlacher - ALL-INKL.COM Münnich Motorsport + 5.367
6 – Pepe Oriola – Campos Racing + 5.702
7 – Kevin Ceccon – Mulsanne Srl + 6.036
8 – Thed Björk - MRacing - YMR + 7.130
9 – Nathanael Berthon - Comtoyou Racing + 7.524
10 – Gabriele Tarquini - BRC Racing Team + 8.220
OVERALL RANKINGS - DRIVERS
1 – #30 Gabriele Tarquini ITA - BRC Racing Team - HYUNDAI - pt. 306
2 – #48 Yvan Muller FRA - MRacing - HYUNDAI - pt. 303
3 – #86 Esteban Guerrieri ARG - ALL-INKL.COM Münnich Motorsport - HONDA - pt. 267
4 – #5 Norbert Michelisz HUN - BRC Racing Team - HYUNDAI - pt. 246
5 – #69 Jean-Karl Vernay FRA - Audi Sport Leopard Lukoil Team - AUDI - pt. 245
6 – #74 Pepe Oriola ESP – Campos Racing - CUPRA - pt. 245
7 – #11 Thed Björk SWE - MRacing - HYUNDAI - pt. 242
8 – #12 Rob Huff GBR - Sébastien Loeb Racing - VOLKSWAGEN - pt. 242
9 – #22 Frédéric Vervisch BEL – Audi Sport Team Comtoyon - AUDI - pt. 228
5 – #68 Yvan Ehrlacher - ALL-INKL.COM Münnich Motorsport – HONDA – pt.204
OVERALL RANKINGS - TEAMS
1 – YMRacing - HYUNDAI - pt. 562
2 – BRC Racing Team - HYUNDAI - pt. 559
3 – ALL-INKL.COM Münnich Motorsport - HONDA - pt. 481
4 – Sébastien Loeb Racing - VOLKSWAGEN - pt. 418
5 – Audi Sport Leopard Lukoil Team - AUDI - pt. 381
6 – Audi Sport Team Comtoyou - AUDI - pt. 300
7 – Campos Racing - CUPRA - pt. 272
8 – DG Sport Competition - PEUGEOT - pt. 242
9 – ComtoyouRacing - AUDI - pt. 140
10 – Mulsanne Srl – ALFA ROMEO - pt. 140