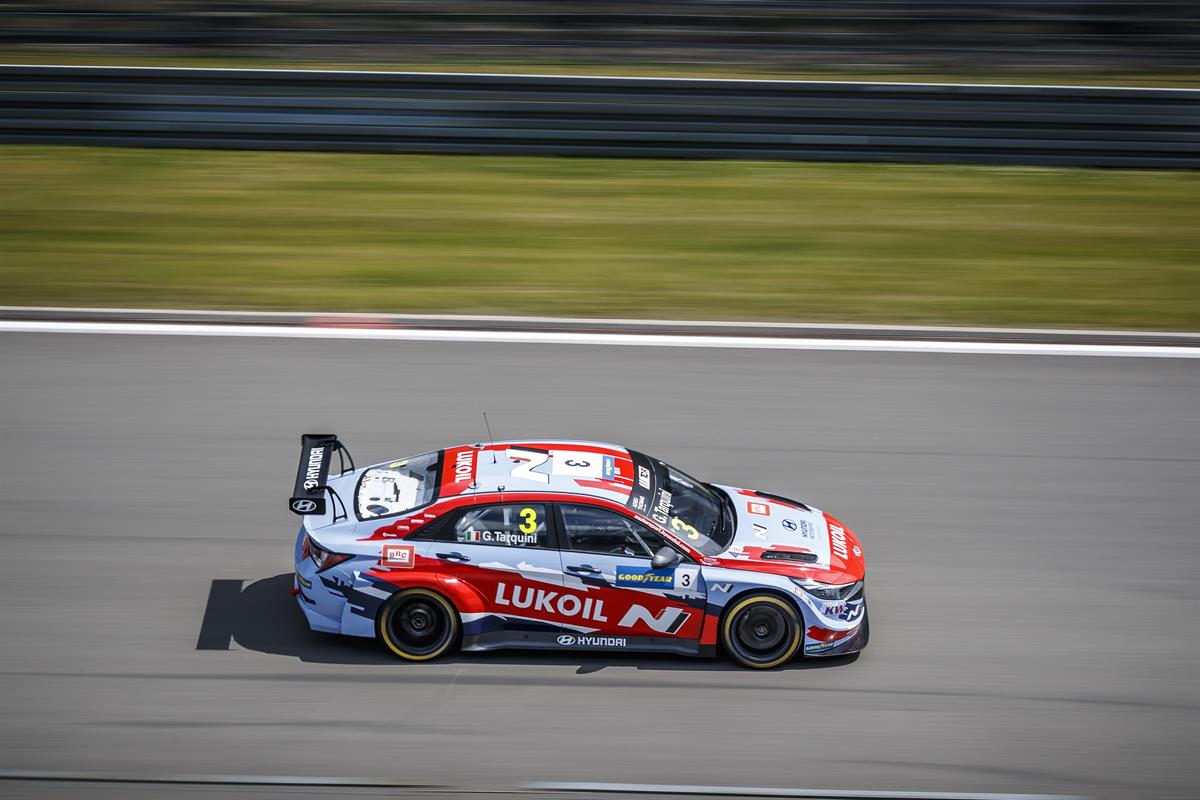 BRC Racing Team looking to bounce back at Race of Portugal
BRC Racing Team is hoping to turn its promising pace into a strong result at Race of Portugal, the second round of the 2021 WTCR – FIA World Touring Car Cup season.
Although not reflected in the finishing positions, both BRC Hyundai N LUKOIL Squadra Corse cars showed podium potential at Race of Germany, the highly challenging season opener. The team and its two drivers, Norbert Michelisz and Gabriele Tarquini, will be targeting those coveted top-three spots as they head to Estoril for Race of Portugal.
Located 35 kilometres west of the nation's capital city of Lisbon, the Circuito do Estoril offers a demanding second outing for the team's new Hyundai Elantra N TCR. Boasting a 986 metre straight, a series of fast corners and two heavy braking hairpins, the track provides plenty of opportunities for exciting racing.
The 2021 edition of Race of Portugal will be BRC Racing Team's first trip to Estoril, however both Michelisz and Tarquini have previous racing experience on the 4.182km circuit. The team will be aiming to use this to full advantage to get to grips with the track quickly, and be fighting at the front of the pack on race day.
Race of Portugal's itinerary begins with two free practice sessions on Saturday 26 June, followed by qualifying on the same day. Sunday 27 June features a 13-lap Race 1 and a 15-lap Race 2.
Team Principal of BRC Hyundai N LUKOIL Squadra Corse Gabriele Rizzo said: "Although the final results at Race of Germany were not what we were hoping for, the pace of our Hyundai Elantra N TCR cars in both races was promising. Now we turn our full attention to Race of Portugal, where our aim is to battle for poles and podiums to pick up good points for the championship. We have to ensure we capitalise on the potential we saw in the first round of the season. This will not be easy, as it is our first time at Estoril as a team, but everyone will work together and push hard to achieve our goal."
Norbert Michelisz said: "I'm really looking forward to Estoril, as I have not raced at this circuit since all the way back in 2008. The Hyundai Elantra N TCR felt really good throughout the weekend in Germany, so I hope that will also be the case in Portugal. It is really important that we score good points at the event and start building a rhythm for the following races as we mount our challenge for the titles. We know the car is capable of winning, we just need to put everything together."
Gabriele Tarquini said: "Although Estoril is a new entry to the WTCR calendar, I raced there many years ago in different series – however it has changed since my Formula 1 days! I like this circuit, it is an old-style track with very deep kerbs and fast corners. It is a shame we cannot return to Vila Real this year, where I have many happy memories, but I am very happy to be back in Portugal. I hope that our car can confirm the good things shown in Nürburgring Nordschleife and that we can fight for podiums this weekend."