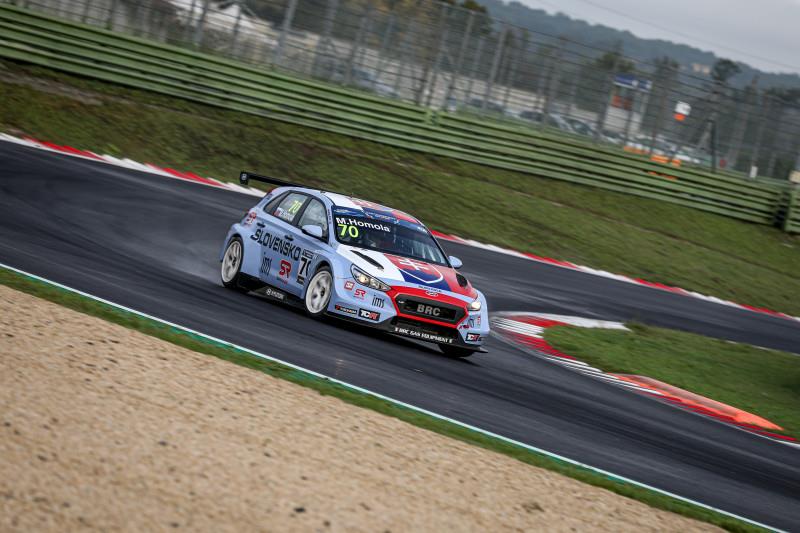 Podium finish for BRC Racing Team in Fia Motorsport Games
Mato Homola gets bronze medal in the Touring Car Cup category
Fia Motorsport Games, the "Olympics" of motor racing, took place on the first weekend of November involving different categories, including the Touring Car Cup.
The three-day competition, an absolute novelty in the motorsport field, was held at Piero Taruffi International Circuit in Vallelunga.
With its worldwide experience, BRC Racing Team supported the Slovak driver Mato Homola with a Hyundai i30 N TCR. He gained the third place overall, at the end of a strong weekend that saw him among the protagonists.
Mato Homola represented his own country, Slovakia, and managed to win the prestigious bronze medal, thanks to a second place in Race 1 and a fifth place in Race 2.
Gabriele Rizzo, BRC Racing Team Principal, comments: "We have been honored to be alongside Mato to support Slovakia team the best possible way. The weekend was positive, as well as the feeling we created with the driver. Together we managed to get a prestigious result, with a competition with zero mistakes. We were positively impressed by Mato's performance and speed, and also by his proficiency."
Results
Race 1 – 15 laps
1 14 K.Gavrilov Russia 27:30.808 Audi RS 3 LMS (DSG) Team Russia
2 70 M.Homola Slovakia a 5.864 Hyundai i30 N TCR BRC Racing Team
3 16 G.Magnus Belgium a 12.785 Audi RS 3 LMS (DSG) RACB National Team
4 27 J.Filippi France a 18.065 Cupra TCR John Filippi
5 59 D.Kouril Jr Czech Republic a 18.637 Hyundai i30 N TCR K2 Engine ACCR Czech Team
Race 2 – 15 laps
1 16 G.Magnus Belgium 31:06.800 Audi RS 3 LMS (DSG) RACB National Team
2 14 K.Gavrilov Russia a 2.081 Audi RS 3 LMS (DSG) Team Russia
3 33 T.Coronel Netherlands a 2.181 Honda Civic FK7 TCR Boutsen Ginion Racing
4 6 R.Butcher Great Britain a 2.317 MG6 Xpower TCR Cobra Sp. AmD Autoaid/RCIB Insurance
5 70 M.Homola Slovakia a 2.566 Hyundai i30 N TCR BRC Racing Team
Drivers Standings
1 K.Gavrilov pt. 47 (Race 1 25, Race 2 22)
2 G.Magnus pt. 45 (Race 1 15, Race 2 30)
3 M.Homola pt. 29 (Race 1 18, Race 2 11)
Nations Standings
1 Team Russia pt. 47 (Race 1 25, Race 2 22)
2 Team Belgium pt. 45 (Race 1 15, Race 2 30)
3 Team Slovakia pt. 29 (Race 1 18, Race 2 11)