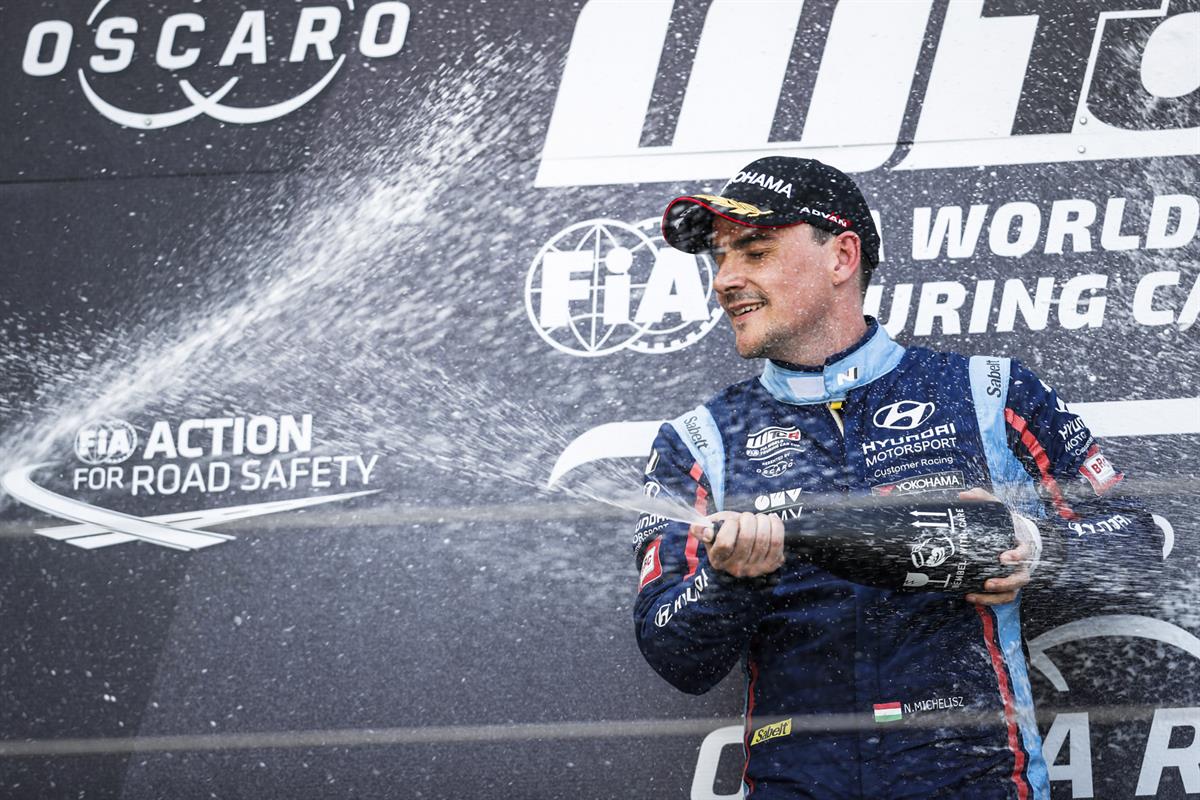 BRC Racing Team celebrates strong weekend at Race of Germany
BRC Racing Team is celebrating a strong weekend at Race of Germany, the fifth round of the 2019 WTCR – FIA World Touring Car Cup season, in which the team netted a race win, a third place podium finish, and points for all four drivers.
BRC Hyundai N Squadra Corse driver Norbert Michelisz dominated Race 1 on Friday at the Nürburgring to take his first victory of the season. His performance means BRC Hyundai N Squadra Corse occupies second position in both the teams' and drivers' championship.
BRC Hyundai N LUKOIL Racing Team driver Augusto Farfus finished in third in Saturday's Race 2 to score his maiden podium with the team. His teammate Nicky Catsburg stormed up the grid from P23 twice on Saturday, overtaking several cars to score important championship points.
All four Hyundai i30 N TCR cars showed great pace around the 25.378km circuit, enabling the team to make gains in both the teams' and drivers' standings as the series moves into the second half of the season.
Having started on the first row of the grid in Race 1, Michelisz made a great start off the line to take the lead of the race before the first corner. He complemented his victory with an eighth place finish in Race 2.
His teammate Gabriele Tarquini departed the 2018 edition of Race of Germany empty handed. 2019 proved more fruitful: the Italian was running in a podium finishing position for much of Race 2 and as a result of his two points scoring finishes on Saturday, he now lies seventh in the drivers' standings.
Norbert Michelisz said: "To be honest, I couldn't have hoped for a better place than the Nordschleife to take my first victory this year. It's a big shame I couldn't finish on the podium on Saturday because the car was good enough for it, but sometimes that's how it is. I'm incredibly happy, big thank you to the team."
Gabriele Tarquini said: "It was a hard race at the Nordschelife as usual, very tough. I finished both races today: I crashed on the first one but survived and struggled with the car in Race 3. In the end we finished in the points twice. Unfortunately Race 1 was very short as my power steering broke and I stopped after a very good start and a very good first corner."
BRC Hyundai N LUKOIL Racing Team driver Farfus moves up in the drivers' standings as a result of his weekend at the Race of Germany, and now lies in 10th with teammate Catsburg in 12th. Their combined result means the team is now fourth in the standings.
Augusto Farfus said: "I'm pretty happy with my weekend. It was great to be on the podium in Race 2, a great recovery from qualifying to go from tenth to third. We had good race pace in the car and I was extremely happy with our performance in Race 1. Unfortunately I got hit in the final race and was unable to finish."
Nicky Catsburg said: "Very cool races here on the Nordschleife today – it might have been the two most exciting races in my touring car career! My Hyundai i30 N TCR was amazing, I overtook a lot of people and had a lot of fun. The mechanics did a good job of getting my car back in one piece for Friday's race after I hit the barrier in qualifying on Thursday – big thanks to them."
Team Principal of BRC Racing Team Gabriele Rizzo said: "We have a lot to celebrate this weekend with all four of our drivers having strong races. On a circuit that is unforgiving and difficult to master, all four Hyundai i30 N TCR cars performed extremely well. Norbert's victory proved that he is a championship contender this year, and it is fantastic for Gabriele to leave Race of Germany also having scored points. Augusto and Nicky also gained lots of positions in the races. Congratulations to them all, and many thanks to the team for all their hard work this weekend. We take a lot of positives with us into the second half of an exciting season."