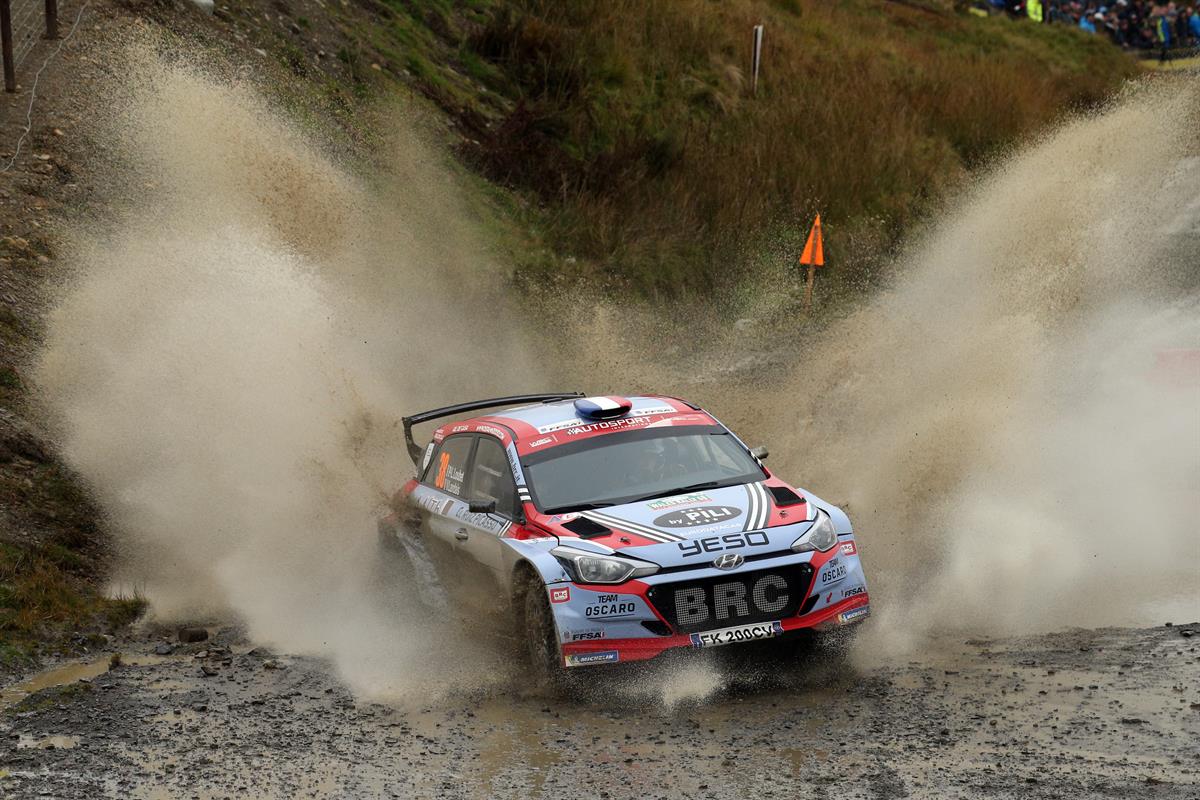 BRC Racing Team ends its season in the 2018 World Rally Championship
With the RACC Catalunya Rally that will take place from October 25th to 28th, and valid as the penultimate round of the 2018 World Rally Championship (WRC), BRC Racing Team closes its rally season.
The program started in March, with the team supporting the young and promising French driver Pierre Louis Loubet and co-driver Vincent Landais.

The two representatives of the Oscaro Team, have faced the season driving the Hyundai I20 R5 with Michelin tires, taking part also in some appointments of the ERC (European Rally Championship).
A few days before the last race, Vincent Landais declares: "With the Spanish race we close a positive season, useful to accumulate experience and learn many things, even if the results have been below our expectations. Our partnership with BRC Racing Team has been excellent. We could work with motivated and very trained staff. Even the car, albeit with some minor problems, proved to be reliable and efficient. We close with the regret for the missed 2nd place at the Rally of Portugal but with the beautiful performances in two magical events like Corsica and Finland. We obviously hope to get the most out of the upcoming race".
The Catalunya Rally is characterized by a unique mix of Special Stages on gravel roads and very fast smooth tarmac.

The start is scheduled on Thursday in the Montjuïc area in Barcelona. On Friday the drivers will have to face two gravel Stages and the 38.85 km long Special Stage with tarmac sections and different surface changes, all to be repeated twice. Saturday, before the Special Stage on Salou seafront, four more tarmac Stages are on schedule, while Sunday the Specials in Riudecanyes and Santa Marina will close a rally of over 1164 km, 331.58 of which timed.
Rally RACC Catalunya Costa Daurada
Schedule
Thursday, 25th October
Shakedown Salou 2,00 km 08:00
SS 1 - Barcelona 3,20 km 18:08
Friday, 26th October
SS 2 - Gandesa 1 7,00 km 09:33
SS 3 - Pesells 1 26,59 km 10:06
SS 4 - La Fatarella - Vilalba 1 38,85 km 11:20
SS 5 - Gandesa 2 7,00 km 15:23
SS 6 - Pesells 2 26,59 km 15:56
SS 7 - La Fatarella - Vilalba 2 38,85 km 17:10
Saturday, 27th October
SS 8 - Savallà 1 14,12 km 08:23
SS 9 - Querol 1 21,26 km 09:08
SS 10 - El Montmell 1 24,40 km 10:08
SS 11- Savallà 2 14,12 km 13:28
SS 12- Querol 2 21,26 km 14:10
SS 13 - El Montmell 2 24,40 km 15:08
SS 14 - Salou 2,24 km 17:00
Sunday, 28th October
SS 15 - Ryudecanyes 1 16,35 km 07:35
SS 16 - Santa Marina 1 14,50 km 08:38
SS 17 - Ryudecanyes 2 16,35 km 10:50
SS 18 - Gartheiniog 2 14,50 km 12:18