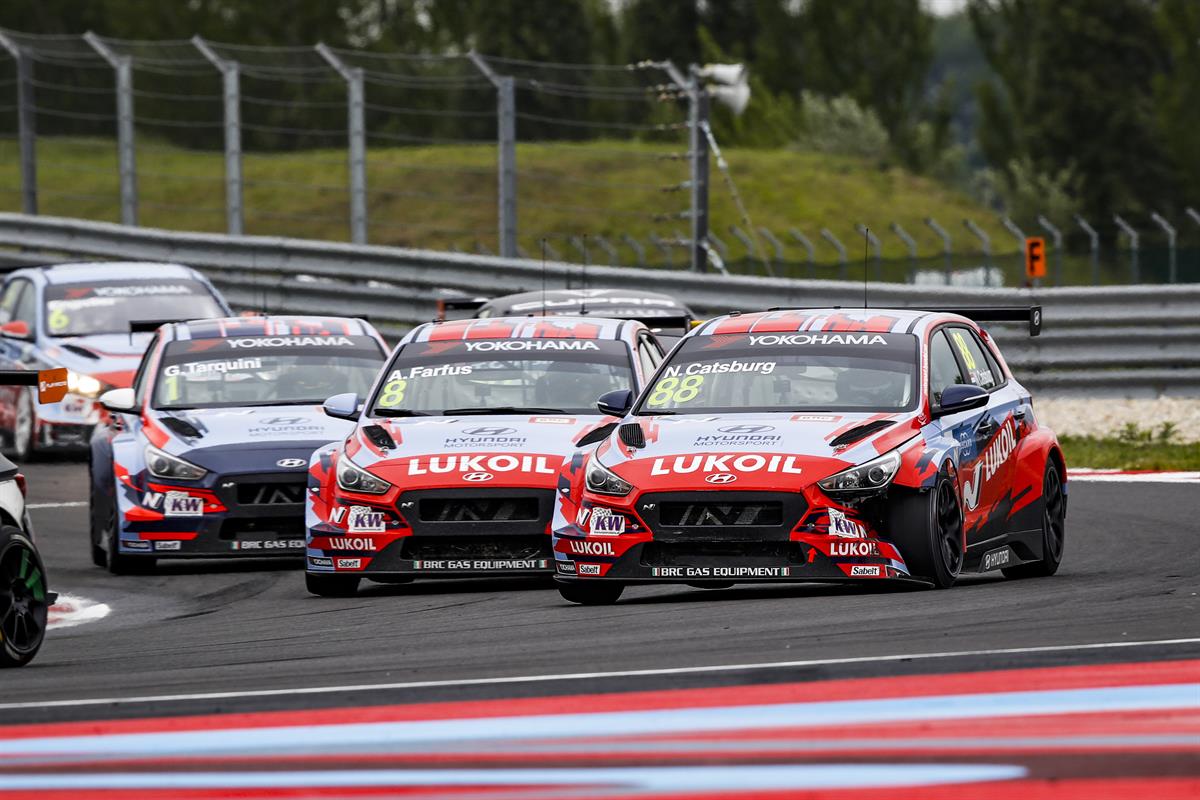 Consistent points scoring performance for BRC Racing Team at Race of Slovakia
BRC Racing Team has enjoyed a consistent performance at Race of Slovakia, the third round of the 2019 WTCR – FIA World Touring Car Cup season with all four drivers scoring important points for the championship battle.
Race 1 was a particular highlight for the team, with all four cars finishing in the top-ten. Both BRC Hyundai N Squadra Corse and BRC Hyundai N LUKOIL Racing Team gained positions in the overall standings, rising to second and seventh respectively.
Nicky Catsburg clinched both pole positions in Friday's dry qualifying sessions, with Norbert Michelisz joining him on the front row in Race 1 and Race 3. However, the changing weather conditions on Sunday meant the team was disappointed not to convert their advantageous starting positions into race wins.
BRC Hyundai N Squadra Corse driver Michelisz challenged eventual Race 3 winner Ma Qing Hua for the lead, but ultimately finished close behind in second place. His Race 1 podium and points finish in Race 2 means he departs the Slovakiaring third in the drivers' championship having scored points in all three races.
His teammate Gabriele Tarquini struggled in qualifying and started his races in the middle of the field, but was able to improve on his position by battling his way through the field. In Race 1 alone he gained 12 places to finish in sixth, while Race 3 yielded another impressive result from 16th on the grid to 9th. He now lies fourth in the drivers' standings.
Norbert Michelisz said: "It was a good race weekend for me. I scored a lot of points, which is important for the championship. The car and the team were working fantastically. I'm a bit stressed because I didn't win a race and I think the car had the pace to do it but I finished twice on the podium – you can have worse days!"
Gabriele Tarquini said: "Today was a very tough day. After a bad qualifying on Friday we started in the middle of the field where there is always a lot of chaos. The first and third race the target was all about scoring points, and in the second race it was a bit more difficult for me. In the end we recovered from the poor qualifying and we look forward to Zandvoort next week. "
Much like Michelisz, BRC Hyundai N LUKOIL Racing Team driver Catsburg also finished in points-scoring positions in all three races, though he was disappointed not to convert his poles into wins.
His teammate Augusto Farfus made up 14 positions in Sunday morning's Race 1, but found himself out of contention in Race 2 after a hit from behind caused him to suffer a puncture. His enjoyed better fortunes in Race 3, finishing in seventh after starting in 17th.
Their combined result means the team is now seventh in the standings with Catsburg in 11th and Farfus in 12th in the drivers' championship respectively.
Nicky Catsburg said: "Race of Slovakia started off really well for me with double pole position and ended really bad unfortunately. Race 1 was a mess as my car was hit and damaged and I couldn't do more than seventh place in a race where I think on pace we could have won. Race 2 was good fun, going from tenth to fourth and scoring points. In Race 3 I was in P2 and could have won the race before I had an issue and couldn't fight with the cars in front."
Augusto Farfus said: "The race was fun after a very difficult Friday where qualifying didn't really work out for us. I managed to have two strong races, but it was a shame I got hit from behind in Race 2 which resulted in a puncture. A P5 in Race 1 and a P7 Race 3, we can go home with a smile. I started quite far at the back and actually passed people on track, which shows a strong performance."
Team Principal of BRC Racing Team Gabriele Rizzo said: "Sunday was intense for all of us, with all three races taking place in the course of one day. While we were able to score a lot of points with all four drivers today, we are of course disappointed to leave without a race win. We know we have the potential with the Hyundai i30 N TCR: both Nicky and Norbert had a strong qualifying on Friday, and Gabriele and Augusto enjoyed some great pace as they improved on their positions in the races today. With the teams now second and seventh in the championship, we're looking forward to getting back to our race-winning performances in Zandvoort next week."