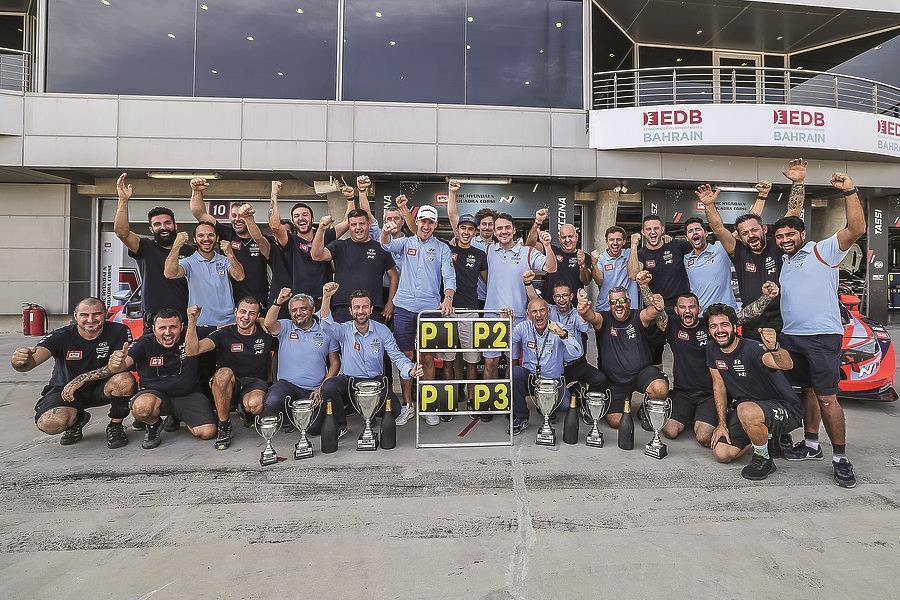 Double win for BRC Racing Team at WTCR Race of Bahrain
On a weekend that proved crucial in both title battles, BRC Racing Team extended its lead further after wins in Race 1 and Race 2 with Mikel Azcona and Norbert Michelisz respectively at the eighth round of the 2022 WTCR – FIA World Touring Car Cup.
In a sweltering qualifying session on Friday afternoon, the Hyundai Elantra N TCR showed it had the pace to battle at the front of the field and continued to do so in both races. BRC Hyundai N Squadra Corse driver Mikel Azcona powered to a lights-to-flag victory in Race 1, claiming his fourth win of the season. His teammate Norbert Michelisz qualified fourth, but after a fantastic start off the line, was able to slot into second position, where he would remain until crossing the finish line. Meanwhile, BRC Hyundai N Racing Team driver Nicky Catsburg stormed through the field after dropping down the order on the first lap after an incident to finish where he began the race, in fifth.
The team's winning ways would continue into Race 2 after Michelisz made up five places in the opening lap to second position. The Hungarian was hot on the heels of the car ahead, never relinquishing pressure and ultimately taking the lead on lap five, resulting in his first win of the 2022 season. Teammate Azcona had the job of navigating through the pack in a chaotic start after beginning tenth on the reversed grid. By the end of the first lap, the Spaniard was up to sixth and hunting down further positions. He would cross the line fifth, but a post-race penalty to a competitor would promote him to fourth. Catsburg was also able to capitalise on the first lap, progressing from seventh to third. From then on the Dutch driver had a reasonably quiet race, but still defending his podium position.
The team has further extended its gap at the top of the teams' standings to 104-points over ts closest rival, with Mikel Azcona extending his lead to 60-points in the drivers' standings. The battle for both titles will continue to the final round of the season, Race of Saudi Arabia.
Team Principal of BRC Hyundai N Squadra Corse Gabriele Rizzo said: "After a weekend like this you can do nothing else but thank Mikel, Norbi, Nicky, all the team and Hyundai Motorsport Customer Racing for the great job done together. I am so proud. We used the extra data from Nicky in the free practice sessions to understand and manage the high temperature in terms of performance degradation during the races. In qualifying we put down a perfect executed strategy of slip streams that boosted our performances. In the races we managed to have a very solid performance combined with meticulous preparation of standing starts. All three drivers were simply fabulous, the Hyundai Elantra N TCR was as always very reliable. We can relax and celebrate this evening, then from tomorrow we will come back focused to clinch both titles in Jeddah."
Mikel Azcona said: "Race of Bahrain was fantastic, a very good weekend for us. To have Nicky with us has been a big help, having three cars to learn from on a new track. We managed well in qualifying, and I was able to get a double slipstream from Norbi and Nicky to gain pole position. In the races the most important part was the start and that's exactly what we did. The results of Race 1 were amazing for the team and important points. The second race was also very positive, after starting tenth we finished in fourth. I have to say thank you to BRC Racing Team and Hyundai Motorsport Customer Racing as they worked so hard this weekend and the results showed that."
Norbert Michelisz said: "It has been a fantastic race weekend for me. It feels amazing, a bit like a dream, finishing second on Friday where my car was already feeling great and then winning in Race 2. The start was perfect, I managed to overtake two cars and then another three when exiting T4 and from that time I knew I had all the possibilities to win the race today because I could see that I was a bit faster than the car ahead. I waited for my time, and it worked out just right. The first part of the season wasn't really coming my way but, finishing like this is just amazing. I'm very happy for myself, and for the team as it's a lot of points for the standings."
Nicky Catsburg said: "Honestly, it's been super nice for me, quite tough to be honest, to jump back in and try to be competitive. But during the weekend I got better and better and ended up with a podium which is great. Big congratulations to the team and to Norbi and Mikel for their wins. I think we almost clinched the championship so that's very good news and we can look forward to Jeddah. Let's hope we can be just as strong there; I'm looking forward to it."
The final race of the 2022 WTCR season, Race of Saudi Arabia, will take place 26-27 November.
2022 FIA World Touring Car Cup for Teams - After Round 8
1.BRC Hyundai N Squadra Corse 476
2.All-Inkl.com Muennich Motorsport 372
3.COMTOYOU DHL TEAM AUDI SPORT 283
2022 FIA World Touring Car Cup for Drivers - After Round 8
1.Mikel Azcona 297
2.Nestor Girolami 237
3.Nathanael Berthon 200
... 5. Norbert Michelisz 179