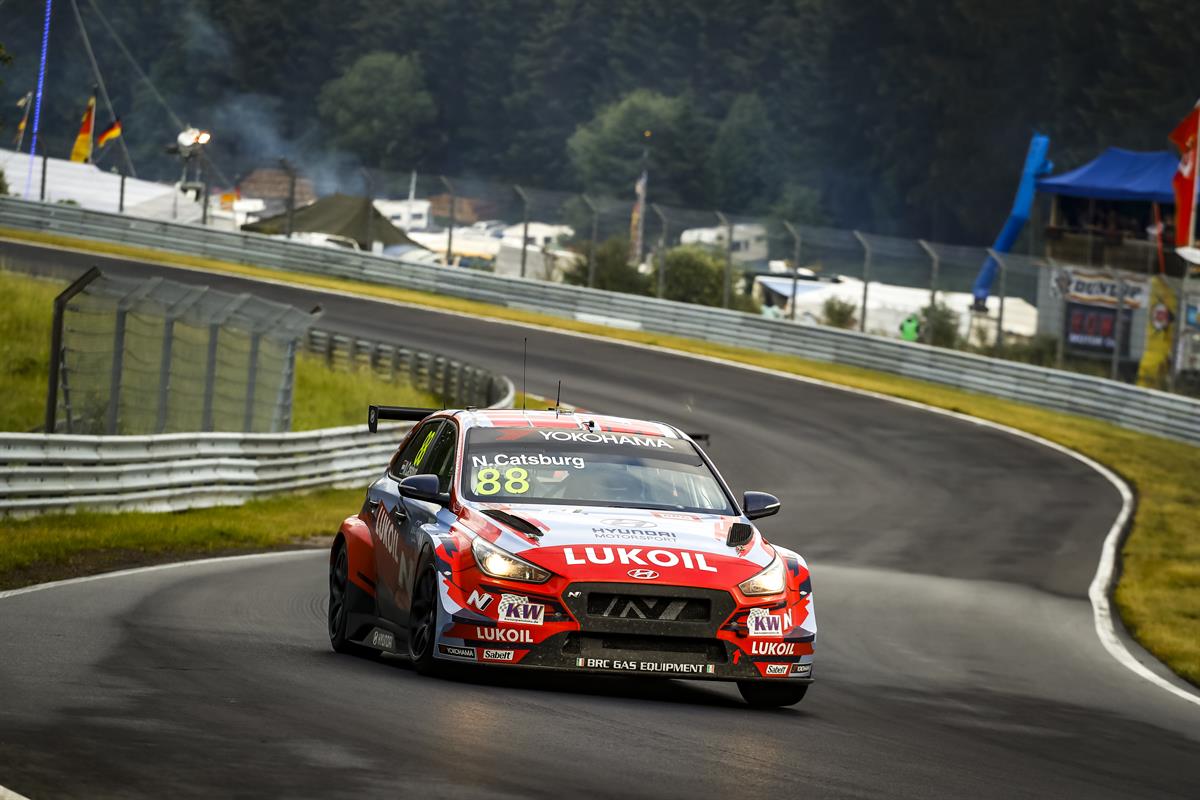 BRC Racing Team prepares for Portugal
BRC Racing Team is preparing for the final European round of the 2019 WTCR – FIA World Touring Car cup season, Race of Portugal, taking place this weekend (05-07 July).
The team is aiming to demonstrate the performance potential of the Hyundai i30 N TCR at the 4.785km Circuito Internacional de Vila Real. The second street circuit of the year on this year's WTCR calendar is an undulating and rapid course, with cars known to reach speeds of 230kph on the track's final descent.
BRC Racing Team put in another strong performance at the most recent round of the season, Race of Germany (20-22 June). Norbert Michelisz scored his first win of the season in Race 1, dominating taking the lead before the first corner of the Nürburgring Nordschleife. The Hungarian has established himself as a serious championship contender for the second half of the season, and is currently second in the drivers' standings. BRC Hyundai N Squadra Corse teammate Gabriele Tarquini enjoyed some close battles on track and brought home important points to consolidate the team's second place in the championship.
BRC Hyundai N LUKOIL Racing Team driver Augusto Farfus had a successful Saturday in Germany, taking his maiden podium with the team in Race 2. Dutch teammate Nicky Catsburg showed great pace in his Hyundai i30 N TCR, twice driving from P23 on the grid into the top ten. As a result of their weekend, the team has moved up to fourth place in the championship.
Vila Real has historically featured exciting racing, with the smallest of errors being punished cruelly. BRC Racing Team has enjoyed success at the Porto circuit, including a double podium in Race 3 in 2018.
Action at the Race of Portugal begins with the first free practice session on Friday 05 July. Saturday will feature the second free practice session, qualifying, and Race 1 (11 laps). Sunday will see the second qualifying session determine the grid positions for Races 2 (11 laps) and 3 (13 laps).
Team Principal of BRC Racing Team Gabriele Rizzo said: "We're excited to return to Vila Real for Race of Portugal this weekend and to demonstrate the performance of the Hyundai i30 N TCR on our second street circuit of the season. We will be aiming to emulate our performance from last year, fighting at the front for podium positions. All four of our drivers had good weekends in Germany, and our target is to continue this momentum in Portugal before we head into the summer break."
BRC Hyundai N Squadra Corse driver Norbert Michelisz said: "Vila Real is my favourite place during the season – because of the weather, as well as the circuit! Every year I manage to do well, having been on pole and winning races in previous years."
Teammate Gabriele Tarquini said: "Vila Real is very good for me, I have scored a lot of points there in the past. This weekend I hope to do a very good job at a very difficult track."
BRC Hyundai N LUKOIL Racing Team driver Augusto Farfus said: "Vila Real is another new track for me. I love street circuits and this one is very fast. It's going to be a big challenge. "
Teammate Nicky Catsburg said: "Vila Real is one of the craziest street circuits I know. It's very high speed, very exciting, a little bit dangerous but extremely cool. I'm really looking forward to it."
Race of Portugal overview
Race 1: Saturday 06 July 15:15 – 15:45 CEST (11 Laps)
Race 2: Sunday 07 July 15:30 – 16:00 CEST (11 Laps)
Race 3: Sunday 07 July 17:00 – 17:35 CEST (13 Laps)