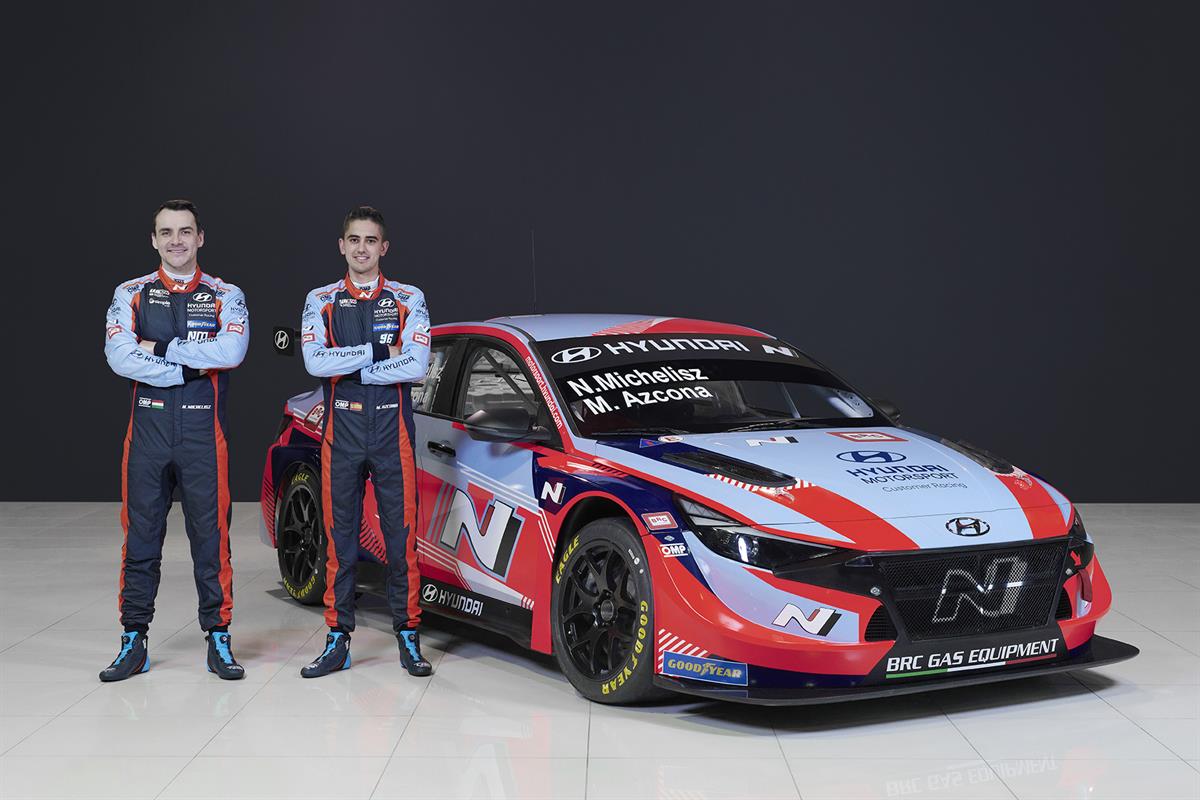 BRC Racing Team kicks-off WTCR 2022 campaign with live launch in Cherasco
BRC Racing Team has set out its winning ambitions for the 2022 WTCR – FIA World Touring Car Cup at a launch event held in Italy today.
Ahead of the season, BRC Hyundai N Squadra Corse officially unveiled its driver line-up and the new-look Hyundai Elantra N TCR during the event, which was livestreamed from the Palazzo Salmatoris in the team's hometown of Cherasco.
After a successful debut campaign with the Elantra N TCR in 2021, in which it won four races, BRC Hyundai N Squadra Corse aims to fight for both the teams' and drivers' titles against an incredibly competitive field this year.
To aid its mission, BRC Hyundai N Squadra Corse will field 2019 series winner Norbert Michelisz for a fifth WTCR season as the Hungarian chases down a second drivers' title. Alongside will be a new team-mate in the form of 25-year-old Mikel Azcona, who will be bidding for a debut WTCR crown. The Spaniard joins the team having established himself as a rising star within the series, with three wins and 12 podiums to his name. Both drivers, who will compete in every round, were present at the live event to share their expectations for the 2022 season.
The Hyundai Elantra N TCR was also revealed in its new official livery for the first time. In preparation for the season, both drivers have been testing the car extensively at circuits around Europe in a bid to hit the ground running from the first round.
WTCR gets underway at Circuit de Pau-Ville for Race of France in early May, with Race of Germany following at the end of the month. In June, Michelisz and Azcona will enjoy home events at the Hungaroring (Race of Hungary) and MotorLand Aragón (Race of Spain) respectively. Circuito International de Vila Real will host Race of Portugal in July. After the summer break, action will then move to Asia for the final three events, starting with Race of South Korea at the Inje Speedium and Race of China at the Ningbo International Speedpark. The final round of the season, Race of Macau, will take place at the Circuito da Guia in November.
Team Principal of BRC Hyundai N Squadra Corse Gabriele Rizzo said: "BRC Racing Team returns to WTCR for the 2022 season with a new drive for titles, wins and podiums. To put ourselves in the best possible position for this mission, we have been focussing our pre-season testing on the European tracks that we will visit during the season. This has helped us to further our knowledge of the Hyundai Elantra N TCR and refine the set-up for each circuit. We are confident with our package for the season ahead, and with our drivers Norbert and Mikel behind the wheel, we can be competing for victories in every round and challenge for the teams' and drivers' titles."
Norbert Michelisz said: "I'm really looking forward to the new season – my first with as the more experienced driver within the team. It's exciting for me, even though it's not a situation I've been in often before. I always feel I perform better when I have more responsibility and more pressure on me. Gabriele's driving will certainly be missed at the team, but I think Mikel is one of the best TCR drivers around. I have known him for a few years, and even though our partnership as team-mates is still very new, I am sure it will become just as successful as mine and Gabriele's has been in previous seasons. For me, winning the WTCR title for a second time has to be the goal. The Hyundai Elantra N TCR is a great car – we know that from last year – so there is no reason not to believe I can achieve that."
Mikel Azcona said: "The last few months have been very busy. Obviously my announcement as a Hyundai Motorsport Customer Racing driver created a lot of interest from people, but for me, it was important to stay focussed on my first tests with the Hyundai Elantra N TCR. When I got into the car in Aragón, I was immediately very comfortable and able to work well with Norbi and the team. After racing against Hyundai cars for so many years, I have high expectations, and everything so far has been great. We've been able to do quite a lot of testing – which I've not had the opportunity to do for the last few years – so I feel like I'm in a very strong position to start the season."