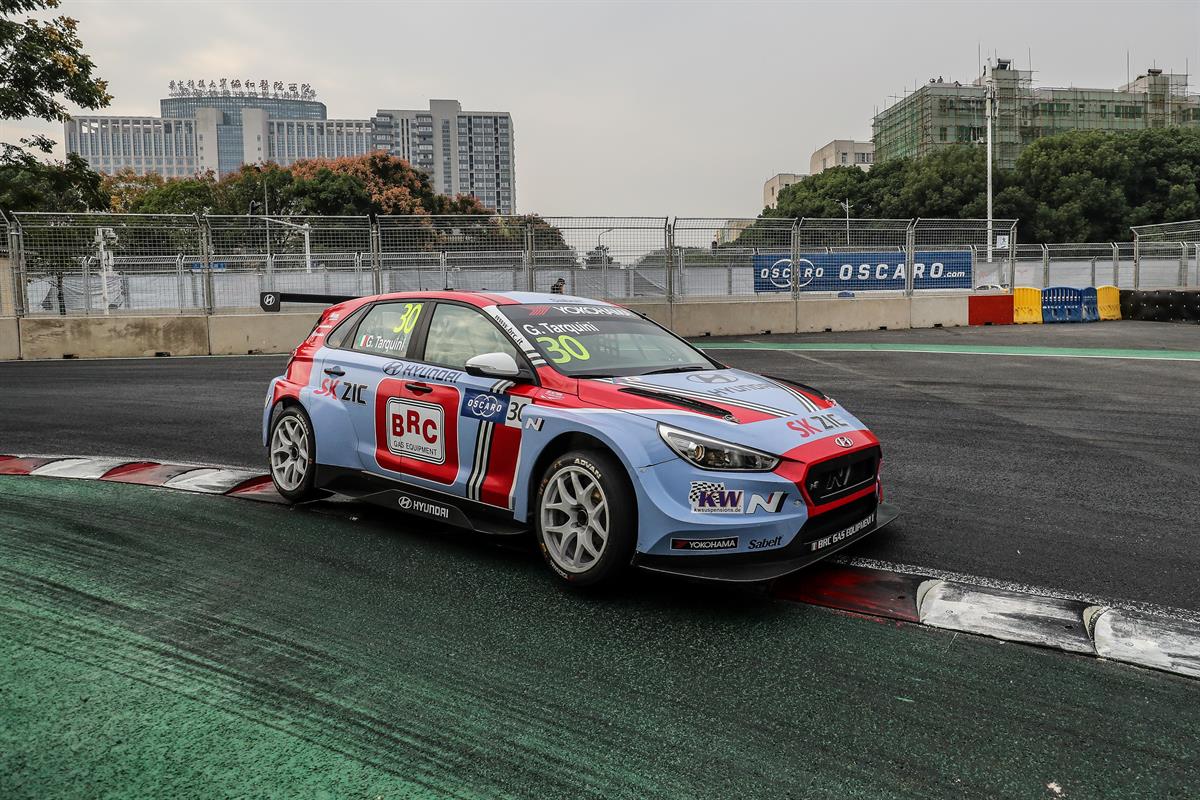 BRC Racing Team looking for a decisive stretch in Japan
The famous Suzuka track in Japan will be the scene for what could be the decisive races in the chase for the 2018 World Touring Car Cup (WTCR) titles.
The WTCR JVCKENWOOD Race of Japan, the penultimate round of the season, will take place from October 26th to 28th. The weekend could prove to be the keystone of the whole campaign, during which the Hyundai i30 N TCR of BRC Racing Team's two drivers have been regulars at the front of the very competitive international field.
The previous Asian races – two back-to-back weekends on Chinese circuits – did little to change the look of the standings. Gabriele Tarquini remains in command at the top of the drivers' championship, while Norbert Michelisz is one of a group of drivers only a few points from the top three. The duo's combined points put BRC Racing Team second in the teams' standings.
After being handicapped by the maximum compensation weight at the most recent round in Wuhan, the weekend in Japan brings a fresh revision to the car weights. Though the i30 N TCR remains the heaviest car on the grid, the gap between it and the other machinery in the pitlane has narrowed markedly. Confident with the performance of the car this change allows BRC Racing Team and its drivers to face the Japanese round in a positive mood, ready to make the most of the weekend before next month's season finale on the Guia Circuit in Macau.
Gabriele Tarquini comments: "I raced at Suzuka several times, both in Formula 1 and in the WTCC, both on the short track configuration and on the full circuit. For me, it's one of the most beautiful and complete circuits in the world. I had the pleasure of winning a race in 2014, and it is still a very pleasant memory. Almost 6km long the track has some long straights, but also more technical sections where the handling of the i30 N TCR should make it very strong. After the Wuhan races the compensation weight has changed a bit and, thanks to this, I hope to find a good setup that will allow us to fight for the podium."
Norbert Michelisz says: "I'm looking forward to the race weekend in Japan, since Suzuka is one of my favourite tracks of the calendar. The circuit layout has everything a driver can wish for, fast change of directions, blind and high speed corners and slow speed sections with the possibility of overtaking. I expect us to have the heaviest car again, but the situation in terms of success ballast should be a bit better than last time in Wuhan, so this, and the fact that the track should suite our car means that we can except to fight for podium finishes again!"
Round 9 WTCR Race of JVCKENWOOD Japan 2018 – Suzuka International Racing Course
Timetable All times local (GMT +09:00)
FRIDAY 26th OCTOBER
09.10 – 09.40 Free Practice 1 (30 minutes)
11.25 – 11.35 Free Practice 2 (30 minutes)
13.00 – 13.30 Qualifying (30 minutes)
15.35 – 15.50 Qualifying Q1 (30 minutes)
15.55 – 16.05 Qualifying Q2 (15 minutes)
16.10 (start first car) Qualifying Q3
SATURDAY 27th OCTOBER
14.05 – 14.30 Race 1 (9 laps)
SUNDAY 28th OCTOBER
11.05 – 11.30 Race 2 (9 laps)
12.30 – 13.00 Race 3 (11 laps)
OVERALL RANKINGS - DRIVERS
1 – #30 Gabriele Tarquini ITA - BRC Racing Team - HYUNDAI - pt. 241
2 – #11 Thed Björk SWE - MRacing - HYUNDAI - pt. 234
3 – #48 Yvan Muller FRA - MRacing - HYUNDAI - pt. 234
4 – #74 Pepe Oriola ESP – Campos Racing - CUPRA - pt.207
5 – #69 Jean-Karl Vernay FRA - Audi Sport Leopard Lukoil Team - AUDI - pt. 205
6 – #86 Esteban Guerrieri ARG - ALL-INKL.COM Münnich Motorsport - HONDA - pt.199
7 – #5 Norbert Michelisz HUN - BRC Racing Team - HYUNDAI - pt. 195
8 – #22 Frédéric Vervisch BEL – Audi Sport Team Comtoyon - AUDI - pt. 192
9 – #68 Yann Ehrlacher FRA - ALL-INKL.COM Münnich Motorsport - HONDA - pt. 178
10 – #12 Rob Huff GBR - Sébastien Loeb Racing - VOLKSWAGEN - pt. 162
OVERALL RANKINGS - TEAMS
1 – MRacing - HYUNDAI - pt. 480
2 – BRC Racing Team - HYUNDAI - pt. 443
3 – ALL-INKL.COM Münnich Motorsport - HONDA - pt. 383
5 – Audi Sport Leopard Lukoil Team - AUDI - pt. 341
5 – Sébastien Loeb Racing - VOLKSWAGEN - pt. 297
6 – Audi Sport Team Comtoyou - AUDI - pt. 264
7 – Campos Racing - CUPRA - pt. 233
8 – DG Sport Competition - PEUGEOT - pt.178
9 – ComtoyouRacing - AUDI - pt. 105
9 – Boutsen Ginion Racing - HONDA - pt. 86
11 – Mulsanne Srl - CUPRA - pt. 49
12 – Zengo Motorsport - CUPRA - pt. 29