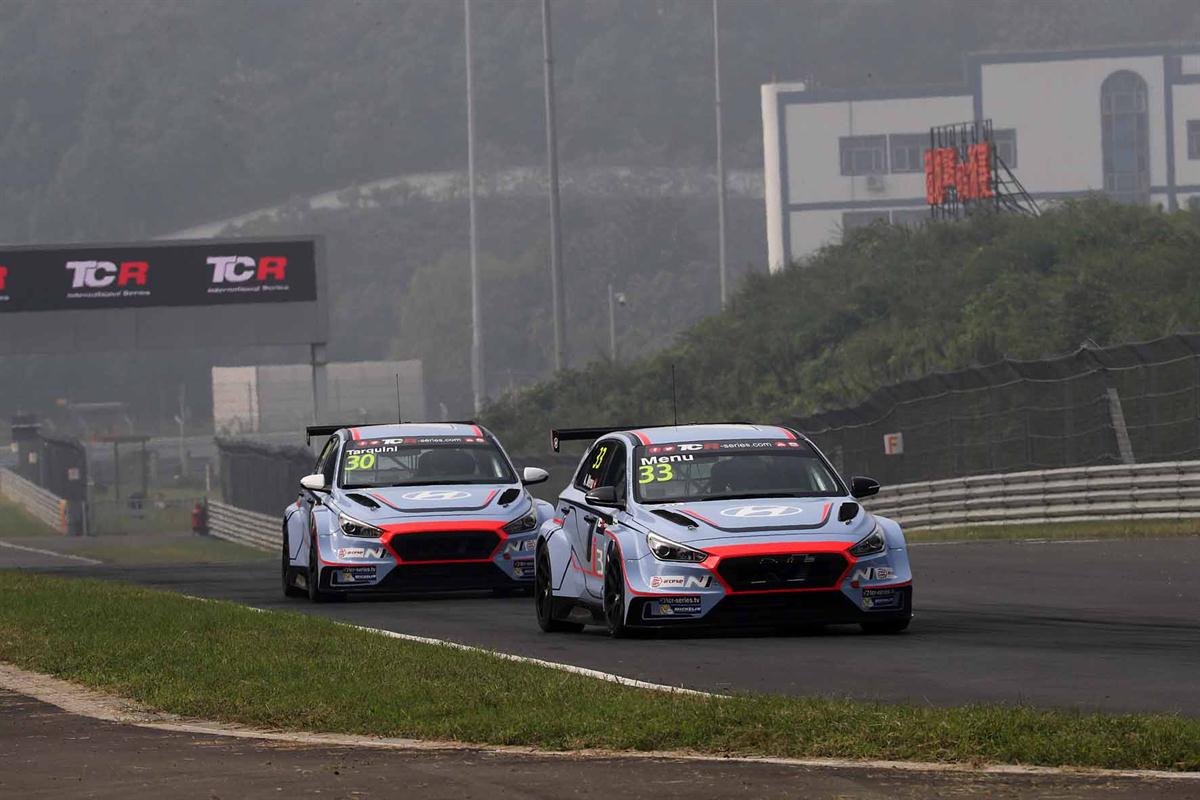 BRC Racing Team: a good first take
Victory at the debut in TCR International Series
7th and 8th October 2017 has been a memorable weekend for BRC Racing Team and Hyundai Motorsport.
On the occasion of the ninth appointment of the TCR International Series, competing at the Zhejiang Circuit (China), Hyundai i30 N TCR at its debut in an official competition, scored a fantastic success with Gabriele Tarquini.
The Hyundai Motorsport built car was also the fastest at qualifying stages, demonstrating, from the very beginning, its high level of performance and reliability compared to similar models involved in the race.
On the weekend of the Chinese race, the team's drivers, Gabriele Tarquini and Alain Menu, were the only ones to stop the chronometer under 1'33", but for regulation reasons due to the new car's temporary homologation, they were forced to start from 13th and 14th positions.
Despite this drawback, Gabriele Tarquini was superb, and after only 10 laps he managed to take the lead in race 1, fulfilling a great victory on the debut, only seven months after the first on-circuit trial. Alain Menu had to deal with a drive-through for a collision at the very beginning of the race, and after he entered the first six positions, he ended the race in 12th place.
In Race 2, the two Hyundai i30 N TCR, with an additional 40 kilos weight and engine powered reduced by 5% due to balance of performance, made a clean and safe race, ending at 4th and 6th final places and highlighting their pace and reliability.
A great success and a further achievement for BRC Racing Team, who took part in Hyundai i30 N TCR development project with Hyundai Motorsport technicians and deployed the racing cars.
Massimiliano Fissore, BRC General Manager, declares: "It has been an historic weekend for BRC Racing Team and Hyundai Motorsport. They have developed a very strong package for TCR competition, which showed in the results the drivers were able to take from the races. Hyundai Motorsport's efforts in designing and building the car have been rewarded with success. The team continue to demonstrate its high level of skills and technical knowledge in the management of any kind of sport project, from rally to circuit. I would like to thank Hyundai Motorsport for the given trust and compliment Andrea Adamo, Hyundai Motorsport Customer Racing Team Manager, and all his staff, for the professionalism and accuracy shown in the project management, matured in a few months of intense work. Next month, we will be organizing on-circuit test days to make Hyundai i30 TCR's characteristics known to drivers who will choose the performing Korean car for their next competitive season."
BRC Racing Team will return at TCR International Series with the Hyundai i30 N TCR during the last weekend of the championship, scheduled November 17th and 18th in Dubai.
Race 1
1. Gabriele Tarquini BRC Racing Team 19 laps in 30:15.966
2. Jean-Karl Vernay Leopard Racing Team WRT at 1.626
3. Rob Huff Leopard Racing Team WRT at 1.970
4. Gianni Morbidelli West Coast Racing at 3.016
5. Pepe Oriola Lukoil Craft-Bamboo Racing at 7.035
6. Frederic Vervisch Comtoyou Racing at 11.787
7. Roberto Colciago M1RA at 15.380
8. Davit Kajaia GE-Force at 16.972
9. James Nash Lukoil Craft-Bamboo Racing at 19.028
10. Aurelien Panis Boutsen Ginion Racing at 19.679
11. Attila Tassi M1RA at 20.201
12. Alain Menu BRC Racing Team at 20.983
13. Stefano Comini Comtoyou Racing at 29.285
14. Zhendong Zhang ZzZ Team at 42.452
15. Rafael Galiana West Coast Racing at 50.245
16. Tengyi Jiang ZzZ Team at 1:01.357
17. Duncan Ende Icarus Motorsports at 1:01.735
NC Mat'o Homola, Dusan Borkovic, Daniel Lloyd, Denis Dupont
Race 2
1. Rob Huff Leopard Racing Team WRT 19 laps in 30:23.840
2. Gianni Morbidelli West Coast Racing at 2.403
3. James Nash Lukoil Craft-Bamboo Racing at 3.511
4. Alain Menu BRC Racing Team at 23.435
5. Pepe Oriola Lukoil Craft-Bamboo Racing at 24.206
6. Gabriele Tarquini BRC Racing Team at 24.668
7. Zhendong Zhang ZzZ Team at 25.442
8. Roberto Colciago M1RA at 26.902
9. Attila Tassi M1RA at 36.852
10. Rafael Galiana West Coast Racing at 50.687
11. Duncan Ende Icarus Motorsports at 1:09.015
12. Jean-Karl Vernay Leopard Racing Team WRT at 1 lap
13. Aurelien Panis Boutsen Ginion Racing at 4 laps
NC. Frederic Vervisch, Tengyi Jiang, Stefano Comini, Davit Kajaia, Mat'o Homola, Daniel Lloyd, Denis Dupont, Dusan Borkovic