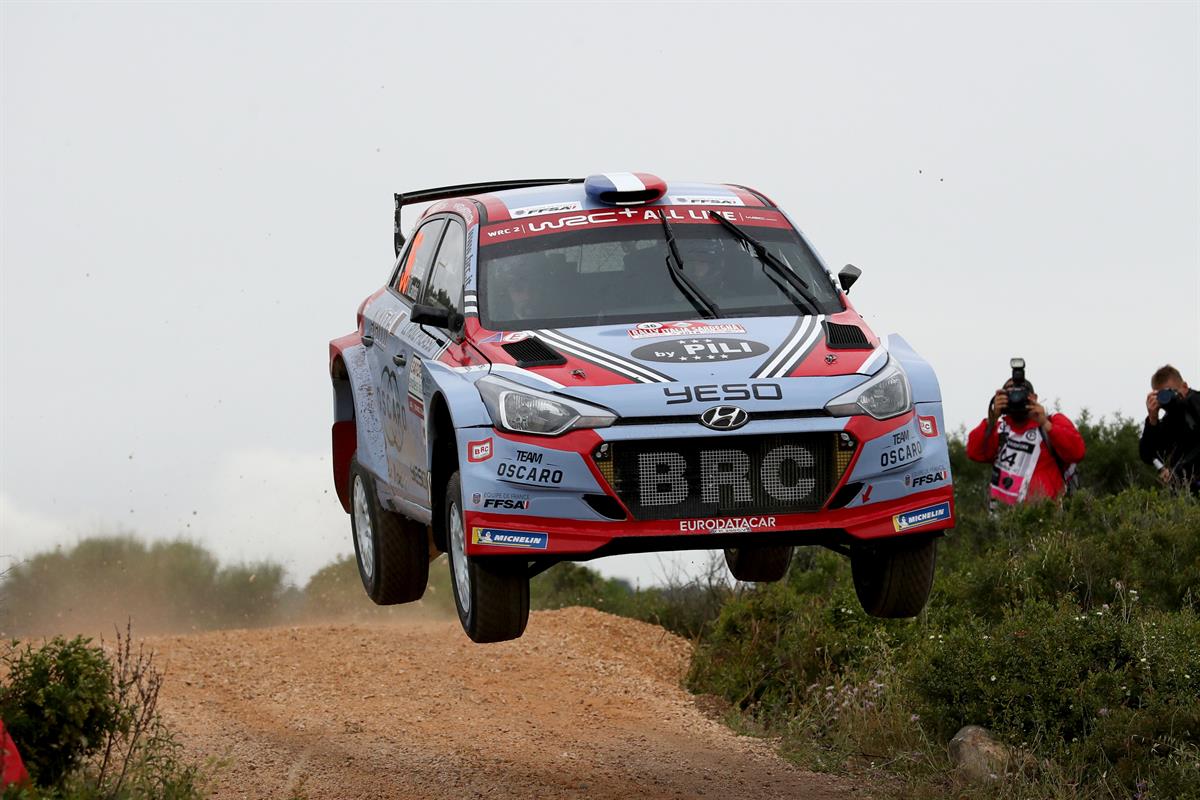 BRC Racing Team al Neste Rally Finland
Pierre Louis Loubet and Vincent Landais at the start on the legendary Finnish specials
After the good test at the last Sardinia rally, Pierre Louis Loubet is ready for the next stage of the WRC2 world championship.
Flanked as usual by his co-driver Vincent Landais, the young driver is preparing to compete at Neste Rally Finland, scheduled from 26th to 29th July on the fast Finnish gravel roads, between forests and lakes, characterized by breathtaking jumps.
The two French from Team Oscaro, that will compete on the 317,26 kilometers of Special Stages, will as always drive the performing Hyundai I20 R5 with Michelin tires, managed and set up by BRC Racing Team.
The rally officially begins on Thursday morning, July 26th, with the shakedown. The first Stage is scheduled in the evening, with the exciting Harju city stage on a mixed surface in front of a large audience in the center of Jyväskylä. On Friday, the drivers will face 10 Special Stages and Saturday the highlight of the event, with almost 143 kilometers on the roads south-west of Jämsa. On the grand-finale of this 3 days' rally, on Sunday the drivers head eastwards for the last two stages to be repeated twice, Laukaa and the great leaps of Ruuhimäki, that will also host the final Power Stage.
Pierre-Louis Loubet comments: "The Neste Rally Finland is a race I have already participated, I have a great feeling with it. The goal for this year is to try to conquer the podium, running a fast rally, being controlled and possibly without mistakes. I'm sure we'll have fun".
Co-driver Vincent Landais makes a point about the season: "We can be satisfied with the level reached, we have shown that we can be fast on any surface. BRC Racing Team has always done a great job and prepared the car to the fullest. We all work in the same direction, with the sole purpose of giving the best. I'm sure that the second part of the season will give us what we have been chasing for a long time: the podium".
Schedule (all time local)
Thursday, 26th July
Shakedown - Vesala 4,26 km 09:30/11:30
SS 1 - Harju 1 2,31 km 19:00
Friday, 27th July
SS 2 - Moksi 1 20,04 km 08:18
SS 3 - Urria 1 12,28 km 09:21
SS 4 - Ässämäki 1 12,33 km 10:13
SS 5 - Äänekoski 1 7,71 km 11:36
SS 6 - Oittila 19,34 km 14:24
SS 7 - Moksi 2 20,04 km 15:27
SS 8 - Urria 2 12,28 km 16:30
SS 9 - Ässämäki 2 12,33 km 17:22
SS 10 - Äänekoski 2 7,71 km 18:45
SS 11 - Harju 2 2,31 km 20:00
Saturday, 28th July
SS 12 –Päijälä 1 23,92 km 08:13
SS 13 - Pihlajakoski 1 14,90 km 09:29
SS 14 - Kakaristo 1 23,66 km 10:38
SS 15 - Tuohikotanen 1 8,95 km 12:13
SS 16 - Tuohikotanen 2 8,95 km 14:55
SS 17 - Kakaristo 2 23,66 km 16:08
SS 18 –Päijälä 2 23,92 km 17:36
SS 19 - Pihlajakoski 1 14,90 km 18:54
Sunday, 28th Julu
SS 20 – Laukaa 1 11,74 08:38
SS 21 – Ruuhimäki 1 11,12 09:38
SS 22 – Laukaa 2 11,74 11:01
SS 23 – Ruuhimäki 2 (power stage) 11,12 13:18